To commemorate the town's 175th birthday, the Farmer City Genealogical & Historical Society sponsored "A Day in the Park" on Sunday July 1, 2012.  The event was held in the City Park, and those who attended heard some fine live music, not to mention a visit from Mr. and Mrs. Lincoln themselves.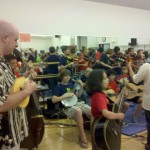 The Bow-Dacious String Band (BSB) performed an hour of traditional and popular music from all over the world. The band consists of kids ranging in age from 6 years to high school.  They have performed at numerous events in the Champaign/Urbana area, and in Chicago, Atlanta, Chattanooga, and Nashville.  You might see a couple of Farmer City kids in this group.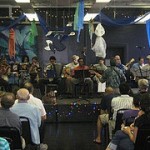 At 3:30 pm the Cretaceous Band, the senior counterpart to BSB, performed its own eclectic selection from several genres.  Farmer City is represented in this group too.
These two bands are on-going programs conducted by the Community Center for the Arts in Urbana.
After the two performances, musicians in attendance were invited to join Tom Faux and Robin Kearton, along with any Bow-Dacious and Cretaceous members who stick around, in a jam session.